Market overview 
Freight and logistics market had improved a lot in the last years, as more people trust on the freight (air freight – sea freight – road freight) and logistics (that mean the movement of goods and information between the provider and the receiver), enhancing the rules and the improvements in the new technologies.
The global logistics market is expected to register a CAGR of 3.48% from 2016 to 2022 to reach to market size of around market size will grow by over $357 billion 2022. Asia-Pacific is expected to contribute significantly in terms of revenue to the logistics market share.

The freight and logistics market is huge and getting growing fast, with different type of freight transports, the figure below show the freight transport for 2016 "with last update January 2018"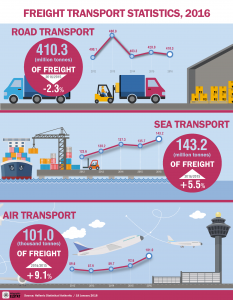 Egyptian market
Regarding the Egyptian freight and logistics market, The World Bank's Logistics Performance Index shows Egypt has significantly improved its logistics performance over the past few years, with the country moving from 92nd in 2010 to 49th in 2016. And by 2018, Egypt dropped to 67th with LPI (Logistics Performance) score 2.82. In 2017, Egypt's Export value $30.1B
Global leaders
For the traders market, there are 10 global leaders as traders :
United states (market leader)
China
Germany
United Kingdom
France
Netherlands
Ireland
Japan
India
Singapore
Challenges
Event there're many opportunities, there're many challenges that face the freight and logistics market :
Technology lack
Protectionism
Government issues and regulations
Cost risk management
And many more challenges that effect the freight and logistics market
Opportunities 
One of the most opportunities that the technologies give to that market is the rapid growth of the e-commerce retail industry that will be a major logistics market driver. With the growing preference for online shopping, there is a considerable increase in e-commerce retail sales across the globe. The e-commerce sales in 2017 were valued at over $2 trillion.
Fill the form,
Get a market research for the freight and logistics market